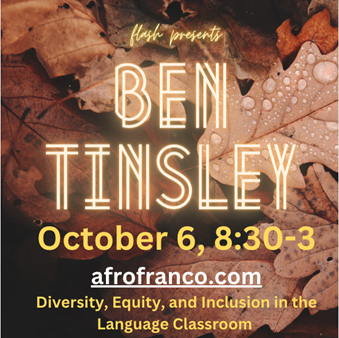 FLASH Fall Workshop Diversity, Equity, and Inclusion in the Language Classroom
25 25 people viewed this event.
Date: October 6, 2023
Time: 8:30 am-3:00 pm
Location: TBD
Ben is a French teacher from Philadelphia, PA. You may have seen his website, afrofranco.com, which is an excellent source of inspiration. With undergraduate majors in French and African-American Studies, a Master's in Literacy, and training in Positive Education, Ben has worked with students and educators from around the world to develop curriculum and pedagogy that serve as both windows and mirrors.
Click Here for more information.
Additional Details
Registration Fee - $170 (Breakfast and lunch included)