California Language Teachers'
Association
Wednesday Webinars are BACK!
On the 2nd Wednesdays of the Month, CLTA & SWCOLT present the Best of the Southwest Edition featuring 2022-2023 Teachers of the Year.  Beginning September 13th.  
California Language Teachers' Association and Klett World Languages  invite you to our collaborative book club this school year. Join us on the 4th Wednesday of each month as Paul Verduzco and Sara Stefanich discuss with readers Honing Our Craft: World Language Teaching Today, edited by Florencia Henshaw and Kim Potowski. 
Webinars are FREE to
members of  CLTA or local State/Regional professional organization.
CEUs available through Stanford Continuing Studies
The series (10 hours) = 1 quarter unit
(additional project to be completed for up to 2 units )
Application for units will be available in February 
$100 for 1-2 units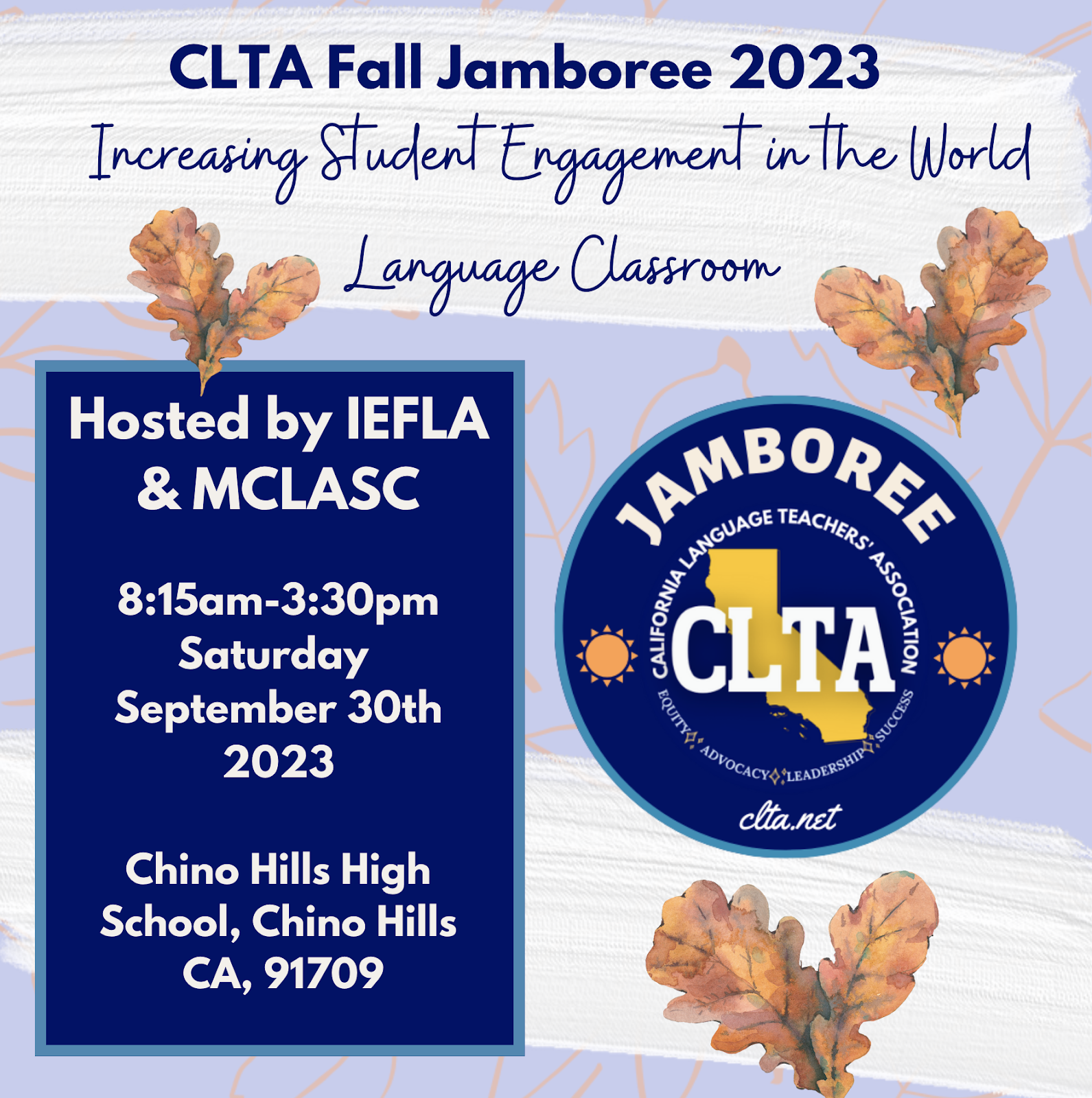 CLTA 
Annual Conference
March 9-10, 2024
Pre-Conference Workshops
March 7-8, 2024
DEADLINE TO SUBMIT PROPOSALS 
WORKSHOPS (Thu/Fri) – SEPTEMBER 30, 2023
INTEREST SESSIONS (Sat/Sun) – October 30, 2023
Deadline for EXHIBITOR PROPOSALS is December 1, 2023
Volunteers Needed
Have you been wanting to be more involved with CLTA in some position or another, but too afraid the job would be TOO MUCH? Think about volunteering as an ASSISTANT. The CLTA Treasurer is looking for someone who would like to learn the job, but not have full responsibility. If you would like to learn more about this opportunities to give back to your organization, contact Evelyn at treasurer@clta.net or registrar@clta.net. She'll thank you! 
UPCOMING EVENTS & CONFERENCES