CIEE/CLTA 2023 Student of the Year
Jaden Donica (nominating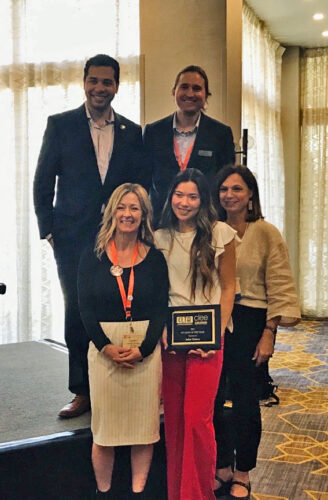 teacher, Carolyn Swaney)
Runner Up #1:  Lena Alessandroni (nominating teacher: Kyrillos Markos)
Runner Up #2: Ruby Meehan (nominating teacher: Brian Bernhards)
Starting in October 2023, California World Language Teachers' Association Members can nominate their most dedicated student for a chance to earn a study abroad scholarship and be honored at the 2024 CLTA conference as CLTA-CIEE California Language Student of The Year. The winning student will take home $5,000, valid on any CIEE high school summer abroad Language & Culture program! Two runners-up will also be awarded $2,500 scholarships for use toward the program fee for CIEE programs.
Good news! Each student who is nominated and who completes an application will automatically receive a $200 discount on their CIEE high school summer abroad program if they travel. Better yet, they will also be considered for a Global Navigator scholarship to be eligible for 10%-100% of total program tuition costs.
Don't miss this unique opportunity to recognize a deserving student and support your students to study abroad! Remember–only CLTA Members can nominate a student. Only one student per member can be nominated. Check back here in October for the application link.