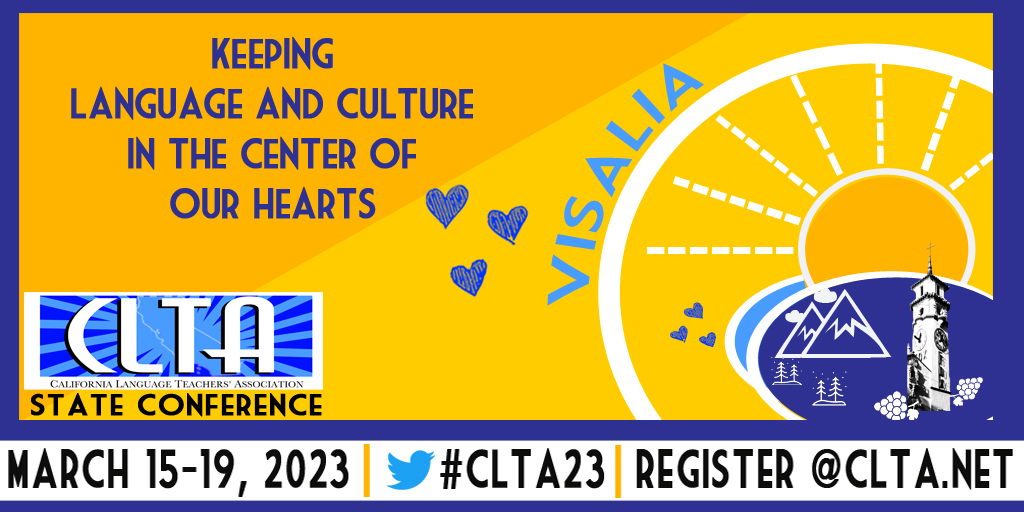 2023 CLTA CONFERENCE
March 15-19, 2023 
 Marriott Visalia & Convention Center
CLTA and KCLTA Welcome You!
We are looking forward to having world language elementary, secondary and postsecondary educators from all over California and beyond. We would like to invite you to participate in the 2023 CLTA Conference. The conference dates are March 15-19, 2023
Registration 
On-site registration and check-in will be in the Executive Lobby of the Visalia Convention Center and will be open Thursday – 8:00-9:30am, 12:00-1:00pm and 3:30-5:00pm; Friday – 7:00am-6:00pm; and Saturday  – 7:00am-2:00pm
Hotel 
Hotel address and parking information can be found on the Travel Info page.
Online Program
CLTA has gone green and has a fully online program.  Login to SCHED to create and save your schedule. Sort by language.  Customize your schedule. Click here to see the online program. Registered and paid conference participants will have received an invite from SCHED to login.  Check the email account you used to register for the invite. If you don't immediately see the email, check your Spam folder before contacting Evelyn Bejarano at registrar@clta.net for help.
Exhibit Hall
Don't forget to visit the Exhibit Hall in the Charter Oak Ballroom of the Convention Center.  On Friday join CLTA in the Charter Oak Ballroom for the official Gala Exhibit Opening sponsored by [tbd]. On Saturday visit the exhibit hall for a coffee break sponsored by [tbd].
Friday Night Karaoke
Meet old friends and make new ones Friday night (7:30–9:30 pm) at our "Karaoke Night" with complimentary hors d'œuvres, a no-host bar, and optional Karaoke participation. Stay tuned for more information as we continue to plan for a fun-filled evening.
Continuing Education Credits
If you are planning on earning continuing education credits you will need to visit the Hospitality table in the Executive Lobby of the Convention Center for information on how to sign up. Click HERE to read about earning CEU's. If you only want a Certificate of Attendance, click HERE.
COVID Endemic
Note that CLTA will follow the CDC & Tulare County recommendations for mask wearing.
For up-to-date information, visit our 2023 Conference Website